Barcode Support within RentControl
RentControl provides extensive barcode support to make keeping track of inventory, selecting equipment for a rental or sale, and checking equipment in after a rental much quicker and less error-prone.
If you barcode the items in your inventory, you can scan the barcodes when attaching items to a rental, and when checking items in after a rental is complete.
RentControl supports two kinds of scanners from a variety of manufacturers:

A keyboard wedge scanner is a hand-held scanner that may be wireless or wired. If wired, it attaches to your PC using a keyboard port. (It sits between your keyboard and the PC, but does not disable the keyboard.) The wireless varieties have different ranges depending on price. A hand-held scanner is very easy to use: Simply click in the field that will accept the barcode number and point the scanner at the barcode. Most wedges are activated simply by picking them up. And, they are fairly inexpensive.
A hand-held scanner saves time and promotes accuracy. You can create an order by simply scanning the barcodes of the items being rented. If the items are not within reach of the scanner, RentControl can produce a printed copy of your inventory with barcodes so you have the barcodes to scan. When an order is returned, you merely scan the items that came back. RentControl checks them in and lets you know if any are missing or any didn't belong to the order. You can also use a hand-held scanner to tag inventory items or reconcile inventory making both processes quick and accurate.

RFID readers can also be used for barcodes. One difference between barcodes and RFID is that barcodes must be visible, while RFID tags can be read even when hidden or jumbled with lots of other tags. For example, the tags attached to costumes or linens can be read even when the clothing or linens are lying in a heap or in a laundry basket. (And specially-designed RFID tags can withstand laundering.) Another difference is that RFID readers can read many tags at a time which can make processing rentals easier.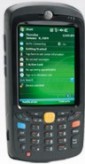 Portable scanners are effectively small computers complete with memory for storage and a variety of preprogrammed functions. Their great advantage is their portability, which makes them suitable for use away from the office, or walking around a large warehouse. The latest generation of these devices, like the MC55 series, are lightweight, rugged and flexible, and pack the power of a cell phone, two-way radio, barcode scanner, digital camera and mobile computer into them. They run Microsoft's Windows Mobile 6.1 operating system and include applications for email and scheduling, with the ability to synchronize data with similar applications on a PC. In addition, they can include Bluetooth for wireless connectivity and headset use and more.
Used with RentControl, a special application lets you scan many barcoded items at once, no matter where your equipment currently lies, and then upload the scanned data to a file on your PC. RentControl can then read these files and process the scanned data, either attaching the scanned items to a rental, checking in the scanned items after the rental is complete, helping with inventory reconciliation, even tagging new inventory items with their barcodes. If you rent large equipment, a portable scanner permits you to easily scan equipment while it is out in a yard, on a truck or off-site. If equipment frequently goes from one rental to another without returning to your warehouse, a portable scanner permits you to go to the rental site and scan the equipment before it is transported to its next destination, thus guaranteeing that you have the right asset numbers for the equipment. Obviously, portable scanners are somewhat expensive, but they are more than just a vehicle for scanning barcodes. With the right configuration, they can enable your workers to have true enterprise accessibility and can eliminate the need for cell phones, beepers, walkie-talkies, etc., since all of these functions are encapsulated in a single device.