Purchase Order Facility
RentControl optionally includes a full purchase order facility to allow you to create and track purchase orders for new assets.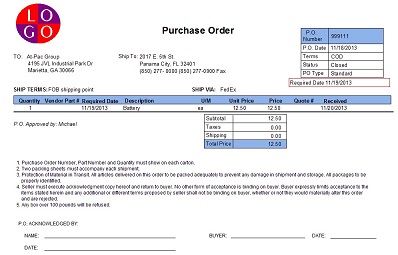 Extensive details are kept with each purchase order, including payment terms, shipping terms, shipping method, cost center, type of PO (standard or standing/blanket), approval, etc.
A PO remains open until you receive all ordered items (with facilities for reflecting backorders and cancellations) or cancel the PO. At any time, you can examine the contents of any open POs or print reports detailing prior closed ones.
Received items can be automatically put into inventory for you.
Additional PO reports include lists of expected items, vendor performance statistics, a cash forecast (which compares your purchasing expenditures from the prior year) and a balance sheet that reflects all purchasing and receivables.