Maintaining Your Own Equipment
For your own equipment, RentControl includes a scheduled maintenance feature. You identify the criteria for an asset's maintenance (number of rentals, number of days on rent, etc.) and RentControl will alert you when maintenance is due. In addition, if assets get damaged during a rental, you can immediately take the item out for repair (thus removing it from active inventory), and then track the time and cost of doing the repair.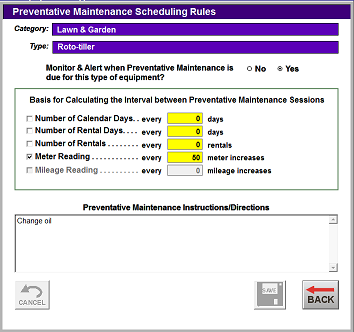 If you have equipment that needs maintenance at definable intervals, RentControl can monitor the use of such equipment and alert you when an interval is reached. RentControl can also monitor the status of equipment that is out for maintenance or service. A Repairs & Service menu also offers options for reviewing assets due for scheduled repair and maintenance as well as listing the assets currently out of service for preventative maintenance.
Once you have established the criteria for when an asset of a type will need PM, RentControl will alert you when maintenance is due, and you can take the item out of available inventory so it can be serviced.
If an asset is damaged while on rental, you can, as part of the return process, also take the item out of active inventory, putting it in a repair status.